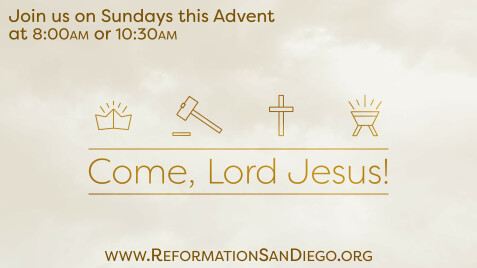 Worship Services
"Yes, I am coming soon." Amen. Come, Lord Jesus! (Revelation 22:20)
The Latin word adventus means "coming." The last words in Scripture are "Come, Lord Jesus!" Thus, the season of Advent begins with the end in mind. We enter a new Church Year with our eyes fixed on the End—capital "E"—when Jesus Christ will come and destroy this sin-broken world.
If that is what Jesus and his angels are coming to do—to destroy the universe with fire (2 Peter 3)—why would we cry out, "Come, Lord Jesus"? Because we know that Jesus has come into our world once before. The Son of God became the Son of Man. From the manger to the cross, Jesus did everything necessary to redeem mankind. As this new Church Year walks us through the entire life of Christ, we see God's promises of deliverance fulfilled… God's plan of salvation completed. And so, when Christ comes again, while the universe will be destroyed, we know God's people will be ushered into a new, glorious, everlasting kingdom.
Advent is necessary to prepare us for Christmas. It enables us to understand the true significance of Christmas. For Advent allows us to see that because of what Christ did when he came the first time, believers need not fear when he comes again. Instead, we yearn for it. Come, Lord Jesus!
Join us each Sunday this Advent to see how, from the manger to the grave, His mission is to save and so we cry out with eager anticipation: "Come, Lord Jesus!"
Answers to Our Advent Questions
Wednesday Night Worship and Soup Suppers at Reformation during Advent
Important questions require important answers. Questions like:
"Are you the one who is to come, or should we expect someone else?" (Matthew 11:3)
"How will this be?" (Luke 1:34)
"For me?" (Luke 2:11)
During our midweek Advent worship services this year, we will focus on important questions—questions that we all need to ask. And then we will hear God's answers – important answers – that we all need to hear.
This Advent, join us on the Wednesday nights of November 30, December 7, and December 14 at 7:00PM for our midweek Advent worship services. Feel free to bring small children in their pajamas. We aim to keep the services to 30-40 minutes, including the time set aside for our traditional sing-along of favorite Christmas hymns and carols. You are also invited to join us for our soup supper fellowships in the gym at 5:30PM.
Join Us for Worship Services Sundays at 8:00am and 10:30am
Location
4670 Mt Abernathy Avenue
San Diego, CA 92117
Phone: (858) 279-3311