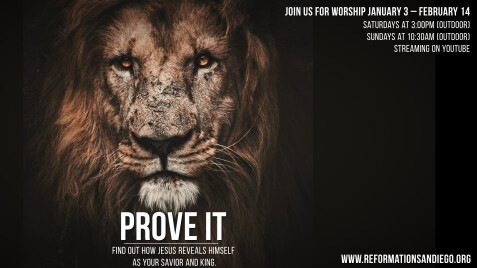 Worship Services
Prove It: Find out how Jesus reveals himself as your Savior.
Who would have ever known it – that the baby in the manger whose birth we celebrate at Christmas is Immanuel ("God with us") unless God had revealed that truth to us? The answer is… no one. But the good news is, God does reveal this wonderful truth to us. And that is what we will spend the next seven weeks unwrapping because if the season of Christmas celebrates God's giving of his greatest gift to the world – his one and only Son – then the season of Epiphany unwraps this gift for us.
Join us here at Reformation as God unwraps and proves the mystery of who Jesus is and the mission he had come to fulfill through the words and works of the Father, through the anointing and empowering of the Spirit, and through the preaching and miracles of Christ.
Give me a sign. (January 2-3)
Are you from God? (January 9-10)
Are you the one we've been waiting for? (January 16-17)
Do you have the right message? (January 23-24)
Do you have the authority? (January 30-31)
Have you come as my personal Savior? (February 6-7)
Do you have the power? (February 13-14)
Location
4670 Mt Abernathy Avenue
San Diego, CA 92117
Phone: (858) 279-3311