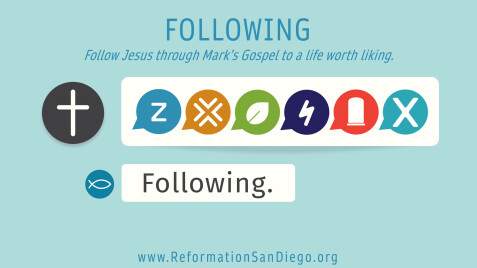 Worship Services
Following: A Worship Series for June-July 2021
Follow Jesus through Mark's Gospel to a life worth liking.
Have you been on social media and seen someone ask a question you really want answered? You might comment, "Following." Then you will be notified about how others respond. You may "follow" a favorite business, news outlet, or blog. This summer, we're not planning to "follow" a celebrity's social media account. We are following Jesus. We invite you to follow along as we walk with Jesus in the book of Mark. Jesus gives his followers true rest. He doesn't share his opinions on social media, but our God points us to his powerful Word and invites us to gather around it and grow. Jesus gives his followers so much more than an encouraging "meme" or a motivational speech. He is actually with his followers, leading us through and protecting us from the storms of life and comforting us when we encounter rejection or even death.
Join us here at Reformation each week as we follow Jesus' posts in the Gospel of Mark (chapters 2-6) to a life worth liking. We hope you "like" and "follow" this series. You won't want to miss it.
Followers of Jesus Enjoy Sabbath Rest (June 6)
Followers of Jesus Gather around God's Word (June 13)
Followers of Jesus Grow in God's Word (June 20)
Special Mission Sunday with a Guest Missionary (June 27)
Followers of Jesus Are Comforted in Death (July 4)
Followers of Jesus Look to Jesus in the Storms (July 11)
Followers of Jesus Are Faithful in Spite of Rejection (July 18)
Followers of Jesus Go with God (July 25)
Location
4670 Mt Abernathy Avenue
San Diego, CA 92117
Phone: (858) 279-3311